by James Whitaker
4th – 9th Grade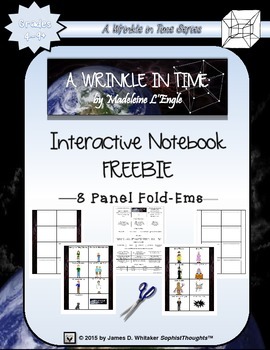 A Wrinkle in Time by Madeleine L'Engle
Interactive Notebook 8 Panel Fold-Ems FREEBIE
Grades 4-8+—5 Pages!
Product Overview/Preface:
An engaging activity for use with Madeleine L'Engle's classic Science-Fantasy novel A Wrinkle in Time. Analyze the dynamic aspects of various characters. Perfect for character studies, study guides, bulletin board display, book report alternatives, etc.
Simple Steps: Print, Write, Cut, & Fold!
Includes:
< 2 Eight Panel Fold-Ems
< 2 Customizable Fold-Ems (After Printing)
< 1 Literary Element Overview Lesson
Please feel free to ask any questions—I will definitely respond to all inquiries in a timely fashion.
Please, check out my other products and resources at my teacher store:
Hopefully my products will help strengthen your lessons, help your students learn, and make your life easier. Thank you and enjoy! —J.D. Whitaker
Copyright © 2015 James D. Whitaker, SophistThoughts™ 
All rights reserved by author.
Permission to copy for single classroom use only.
Electronic distribution limited to single classroom use only.
Not for public display.


https://www.teacherspayteachers.com/Product/A-Wrinkle-in-Time-Interactive-Notebook-8-Panel-Fold-Ems-FREEBIE-1807002
Join The Best of Teacher Entrepreneurs Marketing Cooperative at
http://www.thebestofteacherentrepreneursmarketingcooperative.com/2014/01/the-best-of-teacher-entrepreneurs.html
and get THOUSANDS OF PAGE VIEWS for your TpT products!

Victoria Leon's TpT Store
Go to http://www.pinterest.com/TheBestofTPT/ for even more free products!