by Spatial Projects
Kindergarten – 6th Grade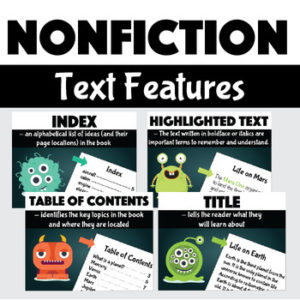 Do you need fun and engaging nonfiction text features posters? This FREEBIE includes full pages of eight different text features such as title, table of contents, graphic aids, labels, glossary, index, maps and highlighted text. All posters include the name of the text feature, its purpose, and an example.
Looking for interactive nonfiction units for science and literacy centers? You can find them here:
All About Harp Seals
All About Orcas
All About Arctic Foxes
All About Polar Bears
All About Deer
All About Owls
All About Rabbits
All About Raccoons
All About Squirrels
All About Honeybees
All About Butterflies
All About Ants
All About Dragonflies
All About Ladybugs
All About Elephants
All About Giraffes
All About Lions
All About Rhinoceros
All About Zebras
All About Cats
All About Dogs
All About Goldfish
All About Parrots
All About Turtles
OTHER SPATIAL PROJECT FREEBIES
Nonfiction Author's Purpose
Nonfiction Graphic Organizers
Penguin Nonfiction Unit Lapbook and Craft Pattern
Please don't forget to leave a feedback. TPT gives you feedback credits that you can use to lower the cost of your future purchases. I love to hear from you!
Click Here To Follow Me. You will now receive updates about new products, freebies, and BIG discounts!
Thank you very much,
Ruby Jane ♥️
https://www.teacherspayteachers.com/Product/Nonfiction-Text-Features-Posters-with-Monsters-3459399