by Spinning a Yarn In First
1st Grade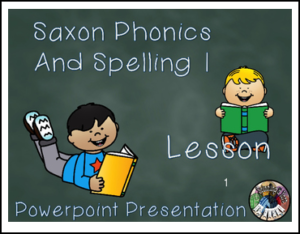 I have created Powerpoints to accompany my daily 1st grade Saxon Phonics Grade 1lessons. I wanted to have the words and sentences quickly on the board so I could focus more on the instruction. This lesson is the first Saxon Lesson. This comes from the week includes the introductions of letters and sounds of t, long and short o, n, and p.
Powerpoints will be added in weekly groupings. You can find the first week of Saxon here Saxon Phonics and Spelling Grade 1 Lessons 1 – 5 Powerpoints
Entire year of PowerPoints available here:
Saxon Phonics and Spelling PPT Bundle
The slides only include items that students must see or must be written on the board. I have found these to encourage my kiddos to be more attentive to review on a daily basis. The general nature and spiral review of these powerpoints would lend itself well to any phonics program.
These materials were prepared by a teacher in the Dyer County Schools (Holice Powell Elementary School) and have neither been developed, reviewed, nor endorsed by Houghton Mifflin Harcourt Publishing Company, publisher of the original SAXON PHONICS AND SPELLING 1 work on which this material is based.
Want to see more? Check out my other products!–> Spinning a Yarn in First
DON'T FORGET TO LEAVE FEEDBACK!
How to get TPT credit to use on future purchases:
Please go to your "My Purchases" page. Beside each purchase you'll see a "Provide Feedback" button. Simply click it and you will be taken to a page where you can give a quick rating and leave a comment for the product. Each time you give feedback, TPT gives you feedback credits that you use to lower the cost of your future purchases. I value your feedback immensely, as it helps me determine which products are most valuable for your classroom, so I can create more for you.