by Speech Therapy Plans
Kindergarten – 5th Grade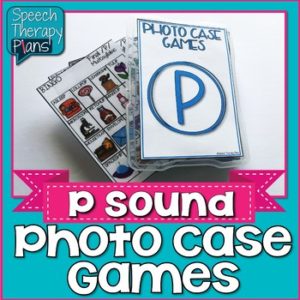 A speech therapy must have! These Articulation Photo Case Games are not only engaging and interactive, but they also provide the opportunity for 50+ productions AND are easy to carry for the on-the-go SLP! Perfect for any speech therapy session!
⭐Get the Speech Therapy Photo Case Games – Growing Bundle of 21 sounds for a HUGE DISCOUNT!
★Each Sound Set Addresses Sounds In The Initial, Medial & Final Positions!
★Includes Single & Multisyllabic Words!
★Also Includes 80+ Mini Picture Cards!
This set specifically addresses the /p/ sound.
Games Include:
BINGO
Daub An Item
Board Games
Dot A Dot
Hangman
Tic Tac Toe
Puzzles
Smash Mats
Connect 4
Find The Match
Build A Person
⭐11 Different Games In ONE PHOTO CASE! ⭐