by LifeLongScholar
4th Grade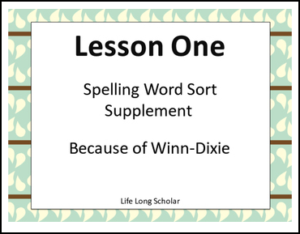 Houghton Mifflin Harcourt Journeys Texas version 4th grade supplemental Spelling Word Sort cut and paste activity.
This is a hands on easy station for students to become familiar with Lesson 1 spelling words.
Designed into a graphic organizer that can be a stand alone station and handed in or folded to paste into a ELA journal.
Included:
Graphic Organizer Page
Answer Key
Spelling words alone
Spelling words in dotted boxes
Title Background from: https://www.teacherspayteachers.com/Store/Revidevi
———————————————————————————————-
How to get TPT credit to use on future purchases:
When you go your My Purchases page just below the title of each purchase is a Provide Feedback button. You simply click on it and are taken to a page where there is a quick rating system and comment box. Your feedback is much appreciated as it helps me to know what you liked/didn't.
https://www.teacherspayteachers.com/Product/Spelling-Word-Sort-Lesson-1-1736146
Go to http://www.pinterest.com/TheBestofTPT/ for even more free products!