by Heart2Teach
Kindergarten – 2nd Grade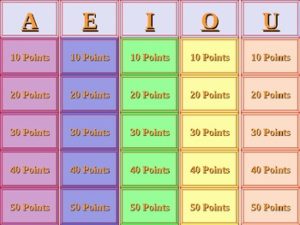 This game is based on the Jeopardy game show. This is great for a quick vowel, spelling review with younger students. To play, students spell the names of the pictures. Directions are included. I would suggest dividing the students into groups to track team points. Have fun!
Also, the words used in the game are listed below.
A Words: CAT-RAKE-GRASS-PLATE-APPLE
E Words: NET-EEL-DESK-GREEN-EAR
I Words: FISH-ICE-MICE-KITE-ZIPPER
O Words: DOT-TOE-CLOCK-BOAT-NOSE
U Words: CUP-BLUE-PUPPY-FLUTE-TUBA
*Have teams tell you if the word has the long or short vowel sound for BONUS points!*
Check out my other Word Work Activities!
Happy Teaching!
~Heart2Teach
https://www.teacherspayteachers.com/Product/Word-Work-Team-Fun-Freebie-545571