by MrsQuimbyReads
2nd – 4th Grade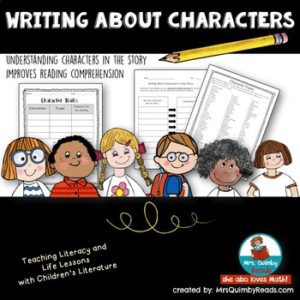 writing about book characters, children's literature, MrsQuimbyReads, character traits, free teaching resources, primary grades, learning to read, writing about my reading
This teaching resource was created by me to provide an opportunity to write about book characters. Understanding characters in the story will improve reading comprehension. Talking about characters in books teaches citizenship and life lessons that are so valuable to literacy instruction.
There are 7 pages included here to write about character traits, and their words and actions in the story.
These pages can be used with ANY book or character.
Great way to teach descriptive writing and adjectives.
Thank you for previewing this teaching resource about writing.
This teaching resource provides opportunities to teach math and literacy concepts at calendar time.
Thank you for visiting my TPT store. Check back as I am always creating new resources.
See More Teaching Resources that will save YOU time:
All About Birds Literacy Pack
My Garden by Kevin Henkes- Reader Response Pages 
Listen, Draw and Follow Directions
Writing Checklist for Beginning Writers
Find these Reader Response Task Cards or Question Strips to create a reader response journal. You can use these with ANY book:
Reader Response Journals Task Cards
Back-to-School Teaching Resources to find NOW … that help you all year long!
Editable Teacher Binder – Important Forms, Monthly Calendars and Monthly Newsletter Templates
Posters for Classroom Display – Teach Kindness and Respect
Classroom Rules Posters for Display
Brag Tags – Improve Classroom Behavior
21 Pages of Writing Prompts and Activities for the First Week of School
I Am ME Booklet
You might also like the literacy-math study packs and teaching resources listed below, click on the link to preview:
Only One You – Reader Response Pages
Chrysanthemum – Reader Response Pages
Tops and Bottoms – Reader Response Pages
Classroom Labels and Numbers -Label Your Room
Charlotte's Web Literature Study Pack
The Trumpet of the Swan Literature Study Pack
Reader Response Journals Task Cards
Little Red Hen Literacy-Math Pack
Charlotte's Web Literacy Pack for Primary Readers 
James and the Giant Peach Literature Study Pack
Island of the Blue Dolphins Literature Study Pack
Aesops Fables Mini-Literacy Unit
The Giving Tree by Shel Silverstein Writing Response Pages
Informational Text Book Circles Reader Response Jobs
Thank You Cards to Read-Color-Paint-and-Send
All About Whales 
Make a Helpful and Organized Notebook for your Substitute Teacher
Multiplication Practice -USA-States & Capitals Game
Frog and Toad Reader Response Pages and Writing Prompts
Writing Sentences for Beginning Writers
Monthly Reading Logs for Beginning Readers
Number Grids for Skip Counting, Computation, and Place Value
All About Snow – NoPREP- January-Literacy and Math Printables
Presidents' Day Writing Prompts 
Meet the Presidents Biography Bottle Person Project for Grades 3-5
Find these resources to provide multiplication/division opportunities in your classroom:
Roll, Multiply, Write and Color
Spin-Multiply-Color Multiplication
Number Bonds and Arrays- Learn Math Strategies for Multiplication
Multiplication Word Problems
Multiplication Facts Assessments and Tracking
*******************************************************************
Be the first to know about my new products and sales:
• FOLLOW Me: Look for the green star next to my store logo and click it to become a follower. You'll receive email updates about my store to SAVE even more!
How to get TPT credit to use on future purchases:
• Please go to your My Purchases page (you may need to log in). Beside each purchase, you'll see a Provide Feedback button. Simply click it and you will be taken to a page where you can give a quick rating and leave a short comment for the product. Each time you give feedback, TPT gives you feedback credits that you use to lower the cost of your future purchases. Your feedback is very important to me and I make revisions if necessary.
Questions? Do you have requests for new products?
• Ask me in the Question tab or email me directly at: mrsquimbyreads@gmail.com
*******************************************************************
Connect with Me
Follow MrsQuimbyReads Blog
Find Ideas and Strategies to teach literacy at MrsQuimbyReads.com
Follow MrsQuimbyReads on Pinterest
Follow MrsQuimbyReads on Facebook
Follow MrsQuimbyReads on Instagram
https://www.teacherspayteachers.com/Product/Writing-About-Book-Characters-traits-words-and-actions-3712595