by Jennifer Drake
Pre-Kindergarten – 2nd Grade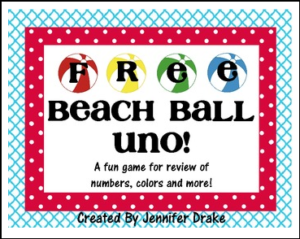 I am SUPER excited to have 800 fabulous followers, that I am offering up this SENSATIONAL SUMMER Beach Ball UNO game for free!
The end of the school year is SUPER hectic- why not use this game to review colors & numbers to 5! It will keep the kids engaged and learning while you wrap & pack things up!
This Pack Includes:
*Instructions for set-up and play
*Beach Ball playing cards in 4 colors
Each color beach ball includes:
~0-5 cards
~skip, reverse & draw 2 cards
*6 wild card
*Instruction playing cards to put with the deck
if giving as a gift
*Can also use the cards as Memory/Go-Fish &
Left, Right, Center games!
*Use for number ordering, addition/subtraction practice (use cards to make number sentences), number recognition, etc!
***Feedback on this fun freebie is GREALY appreciated!***
Not one of my 800 followers? No problem! Download this game, and if you like the quality of my work, consider becoming one of my followers to receive email notification of future product and freebie uploads!
Would you like an UNO game that reviews to 10?
Fish UNO
Or need more summer/end of year resources?
Click Here To Access My Summer & End of Year Resources
Be sure to visit my TpT store for fun and innovative ways to motivate children while learning for throughout the year!
Click Here To Access My Store
Happy Summer!
Happy Beach Ball UNO FREEBIE Fun!
https://www.teacherspayteachers.com/Product/Beach-Ball-UNO-FREEBIE-713065