by Sherry Clements
Kindergarten – 2nd Grade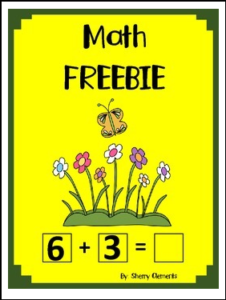 Thanks for stopping by! I hope you enjoy this FREEBIE. Please take just one moment to leave me some feedback. I really appreciate your comments! Come back and get my other freebies. I hope you can use some or ALL of them in your classroom.
FREE: DO the MATH (FREEBIE) (Complete the Equation)
This is a one page FREEBIE requiring students to complete the equation (sums to 10). Find the missing addend or the sum.
**********Please follow me by clicking on the green star by my picture above to be notified of new products and freebies!**********
Please visit me at:
BLOG
FACEBOOK PAGE
PINTEREST
TPT STORE
Sherry Clements
https://www.teacherspayteachers.com/Product/Equation-FREEBIE-1150354