by Fern Smith's Classroom Ideas
1st – 2nd Grade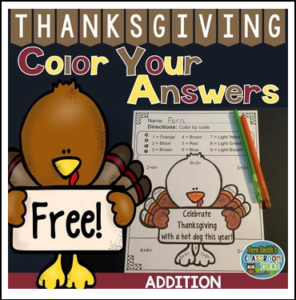 FREE DOWNLOADS: FREE Thanksgiving Fun! Thanksgiving Addition Facts – Color Your Answers Printable!
FREE Thanksgiving No Prep Printable that can be used for your math center, small group, RTI pull out, seat work or homework. One copy for the students and one copy with the answers for some fun for Thanksgiving!
Click here to see my Thanksgiving Fun! Addition – Color Your Answers Printables.
Terrific Freebie if you are studying:
Little Critter: Just a Special Thanksgiving
10 Fat Turkeys
The Night Before Thanksgiving
Five Silly Turkeys
'Twas the Night Before Thanksgiving
CLICK HERE for more Color Your Answers resources.
Terrific for an Emergency Sub Tub or Homework!
Keywords: FREE DOWNLOADS, FREE DOWNLOAD, Free, Freebie, Addition Printables, Thanksgiving, Addition Color By Code, Addition Color Your Answers, Thanksgiving Color By Code, Thanksgiving Color Your Answers, Seatwork, Daily Five, Turkey, Thanksgiving Turkey, Thanksgiving Turkeys, Turkeys, Seasonal, Autumn Theme, Fall, November, Math Stations, Small Group Remediation, Homework, Fern Smith's Classroom Ideas.
© 2015, Fern Smith's Classroom Ideas
https://www.teacherspayteachers.com/Product/FREE-DOWNLOADS-2209420
Go to http://www.pinterest.com/TheBestofTPT/ for even more free products!