by Spot On Teaching
Kindergarten – 6th Grade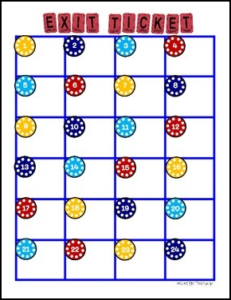 ❤ ❤ ❤ Thank you for downloading this freebie! ❤ ❤ ❤
Closure is an extremely important, but often skipped, part of guided math. Students need time to reflect on the strategies they used during work time, ask questions, and discuss strategies with the class. This is also a great way to informally assess your students to guide your instruction.
Assign each student a number. They will write their reflection on a post it note and place it in the numbered box.
Tip: If you teach more than one class, use a different color post it note for each class.
Feel Free to share this freebie with your friends and colleagues!
❤ ❤ ❤ Customer Tips ❤ ❤ ❤
Earn TpT Credits for future purchases
★ Please go to your My Purchases page. Beside each purchase, you'll see a provide feedback button. Simply click it to provide a rating and leave a short comment for the product. Each time you leave feedback, TPT gives you credits you can use to lower the cost of future purchases. Thank you!! I value your feedback greatly! ☺
Follow Me
★ Click on the GREEN STAR to be the first to know about my newest FREEBIES, sales and products.
Find Me On
★ Pinterest ★ Instagram ★ Twitter
https://www.teacherspayteachers.com/Product/Math-Workshop-Exit-Ticket-Poster-825442
Go to http://www.pinterest.com/TheBestofTPT/ for even more free products!