by J MASON EMERSON
11th – 12th Grade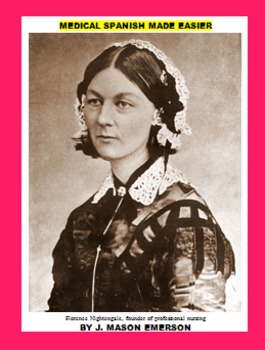 This is a great resource you can use again and again. It has:
Pronunciation of Latin American Spanish,
Easy Phrases For Medical Situations, Etc;
Longer Medical Context Material;
Handy List Of Medical Vocabulary;
Spanish Grammar Sketch.
—————————————————————
To get money-saving bonus points TpT says you can purchase and leave a fair rating for this product. I will then be able to click the helpful feedback note.
https://support.teacherspayteachers.com/What-are-TpT-credits-c42-a136.html
Also, click the tiny star or Follow Me at the top here to become a Follower and to be able to learn about new products and sales.
The Spanish herein is the more informal Latino Spanish actually used by most students from Latin America rather than the formal Castillian of Spain so there are some differences in grammar, spelling and or vocabulary even as there are with American and British English.
This is supportive of the Common Core State Standards (CCSS) but does not thereby or otherwise imply any approval from the founders or others of the CCSS.
TEN GOOD REASONS TO BUY THIS RESOURCE PACKAGE: There's 1. enough material to last and last, 2. reusable over the years, 3. buying it is more convenient than trying to make all this yourself, 4. students enjoy the fun, learning word game parts, 5. my word searches uniquely don't just teach words in isolation but also the information with them, 6. the package is complete with reading components, tests with keys, other handy and helpful material at a more than fair price, 7. a purchase with a "fair rating" will give you TpT bonus points for reducing cost; 8. clicking Follow Me brings access to when sales will be etc, 9. it looks and is professional, 10. its teaching with fun means students enjoy it and so you'll love their staying busily learning like happy bees at the honey hive of knowledge, your classroom, even as they were in mine when this or similar resources were used.
Thanks for your consideration and please come again,
J. Mason Emerson
Teacher-Author


https://www.teacherspayteachers.com/Product/MEDICAL-SPANISH-MADE-EASIER-SCI-HEALTH-SPANISH-ESL-ETC-1352278
Join The Best of Teacher Entrepreneurs Marketing Cooperative at
http://www.thebestofteacherentrepreneursmarketingcooperative.com/2014/01/the-best-of-teacher-entrepreneurs.html
and get THOUSANDS OF PAGE VIEWS for your TpT products!

Victoria Leon's TpT Store
Go to http://www.pinterest.com/TheBestofTPT/ for even more free products!