by School Sciences
6th – 8th Grade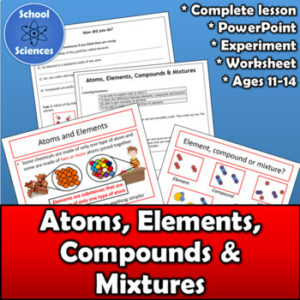 Complete lesson including interactive PowerPoint that uses teacher led discussions
student led exercises, interactive activities involving mini –whiteboard, full lesson worksheet and experiment.
Experiment to make iron sulfide (external link to method and safety included below)
Please check the comments within the PPT for additional teaching instructions. As with all my resources I've used this myself and in my experience this is a successful, engaging and enjoyable lesson for my pupils – I'm sure you'll find the same.
The practical instructions can be found at http://www.rsc.org/learn-chemistry/resource/res00000713/iron-and-sulfur-reaction?cmpid=CMP00005161
***teachers are advised to risk assess and practice any experiments in advance***
You may be interested in my other resources on the atom:
Atomic Structure activity and worksheet Ages 14+
Atomic Structure and Electron Arrangement Ages 14+
Atoms and the Periodic Table Quiz, Quiz, Trade Ages 14+ FREE 
Reviews & TpT credits
I value your feedback as it helps grow my store and help me improve this and other resources.
To leave a review go to your My Purchases page. Beside each purchase you'll see a Provide Feedback button. Click it and you can give a quick rating and leave a short comment for the product.
Each time you give feedback, TPT gives you feedback credits that you use to lower the cost of your future purchases.
Follow my store
Be the first to know about my new discounts, freebies and product launches:
• Look for the green star next to my store logo and click it to become a follower. You will now receive email updates about this store
Twitter: @schoolsciences1
All materials copyright School Sciences 2018-present
https://www.teacherspayteachers.com/Product/Atom-elements-compounds-mixtures-MS-PS1-1-3622967