by Science Health and PE Materials
5th – 9th Grade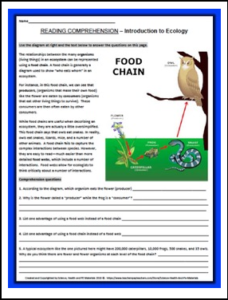 Use this worksheet as a warm up, do now activity or for general reading comprehension. This worksheet is free and is 1 of 13 handouts that is included in the Introduction to Environmental Science Workbook. The following topics are included in the Workbook:
Click Here For More Worksheets
Page 1- Intro to Ecology (Free)
Page 2- Abiotic vs Biotic Factors (Free)
Page 3- What is an Ecosystem?
Page 4- Producers and Consumers
Page 5- The Food Chain
Page 6- Biomes
Page 7 – Niche
Page 8 – Habitat
Page 9 – Generalist vs Specialist
Page 10- Competition
Page 11 – Competitive Exclusion
Page 12- Mutualism in Extreme Environments
Page 13 – Energy in the Ecosystem
https://www.teacherspayteachers.com/Product/Intro-to-Ecology-Reading-Comprehension-Worksheet-2709307
Go to http://www.pinterest.com/TheBestofTPT/ for even more free products!