If you are a junior or intermediate ELA teacher this resource is a true must have to get your year off to a great (and easy!) start. Modelled after Founts and Pinnell and the work they have done in the primary grades, my junior and intermediate reading/writing resource has everything you need to get your workshops up and running for the year! This resource came about after working at a literacy coach for five years. This was the answer to all the questions I was getting from teachers about how to set up and start their workshops for the year.  It is also the resource I have used in my own classroom. (Click image to be taken to the resource)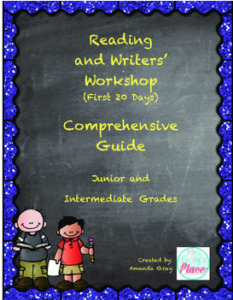 Each lesson is laid out in a non-nonsense, easy to use format.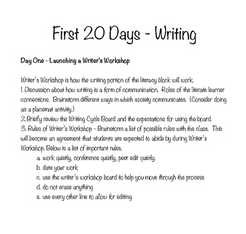 Writers' Workshop includes:
This resources included everything you need to set up your Writers' Workshop program.
Among the lessons included are:
Set-up
Revising/Editing
Peer Editing
Abandoning Writing
Author's Chair
Generating Ideas
Conferencing
Reading Workshop includes:
This resource is the complete first twenty days and is meant for the junior and intermediate classes. Part Fountas and Pinnell, part collaboration, this resource will help you take your students on the next step, beyond the primary level reading workshop. This resource includes all the required lesson plans, BLMs and anchor chart ideas.
Among the lessons included are:
Accessing Reading Materials
Listening to Your Inner Voice
Reasons to Abandon Books
Leaving Tracks of Your Thinking
Different Kinds of Non-Fiction
Reading Response Journals
Creating a List of Your Reading
Book Talks
Bonus: Creating Book Trailers
82 pages of AWESOMENESS! How is that not the best way to get your year off and running.
First Twenty Days of Reading and Writing Workshop Bundle
MY TPT Share Board – new members welcome.
Last but, and most important…by store: Mrs. Gray's Place
Cheers,
Amanda