by Colleen's Cosmic Collection
1st – 3rd Grade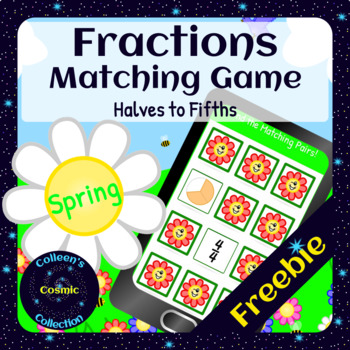 Your students will have so much fun with this digital memory matching game for practicing recognition of fractions. Perfect for Distance Learning or paperless learning in class! The different difficulty levels allow for easy differentiated learning. This fun math game is a digital resource, so there is no printing required.
In this FREEBIE your students will need to match fraction circles to symbols for fractions ranging from halves to fifths.
There are 3 difficulty levels to choose from for each version of the game:
* Easy (8 cards)
* Medium (12 cards)
* Difficult (16 cards)
The game is hosted on my website, www.colleenscosmiccollection.co.za. It is an online game and therefore requires an internet connection. Neither you nor your students will be required to create an account in order to access the game – all you need is the link, which you will receive in a pdf when you purchase this product.
How to use:
In order to allow your students to play the games, you simply need to share the link with them (through Google Classroom or via email).
Alternatively, if you wish to assign a specific difficulty level to your students, you can click on the link and then select the level by clicking on it. Once you have navigated to the correct level game, you can copy the link of that page and share it with your students.
PLEASE REMEMBER: you MAY NOT SHARE the PDF or the link contained therein with anyone apart from your own students!
If you like this FREEBIE, you may be interested my other fractions resources, or my other online games.
Also, you can check out my other products in my store.
All art created by seller.
Many of my products are 50% off for the first 48 hours after I upload them! Click here to follow me if you would like to receive email notifications about my new resources.
Please note that all computers and printers are different, so when printed, the colours in this resource may not appear the same as when viewed on your computer screen.
Please consider leaving feedback on this product. To do this, you can go to your "My Purchases" tab and rate any products you have downloaded. I would love to know if you are happy. If you are not completely satisfied, please send me a question/comment, so I can make improvements as needed. Leaving feedback will earn you TpT credits towards future purchases.
Please note: On purchasing this product I guarantee that you will have access to the game for at least one year. But you will be able to continue accessing it indefinitely for as long as my website remains active.

https://www.teacherspayteachers.com/Product/Fractions-Digital-Activity-Spring-FREEBIE-6594549
Join The Best of Teacher Entrepreneurs Marketing Cooperative at
https://thebestofteacherentrepreneursmarketingcooperative.net/the-best-of-teacher-entrepreneurs-marketing-cooperative-one-year-membership/
and get THOUSANDS OF PAGE VIEWS for your TpT products!

Victoria Leon's TpT Store
Go to http://www.pinterest.com/TheBestofTPT/ for even more free products!






---