by Lessons Learned By Heart
4th – 6th Grade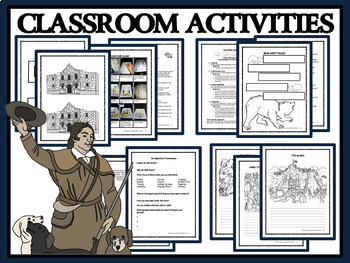 6 Reading passages covering the Frontier, Frontiersmen, Davy Crockett, Texas Independence, the Alamo and more. Classroom and enrichment activities keep students engaged as they learn. A game of BINGO rounds out this lesson by reviewing new concepts and vocabulary words in an enjoyable way. Great for substitute teachers, homeschool, and co-ops.
In the early part of the 1800s, land west of the Mississippi River was complete wilderness. This land consisted of rivers, mountains, forests and prairies and was occupied by Native Americans and wild animals. The frontier was the name given to the wild and unfamiliar land that lay west of civilized America. Davy Crockett was a Frontiersman and was present at the 1836 Battle of the Alamo.
6 One-Page Reading Passages
Classroom Activities
Review Worksheet
Teacher's Key
2 Graphic Organizers
This FREE lesson plan will give you an idea about my other Wild West Careers Lessons which are in the same basic format. Check them out!
6 one-page reading passages cover the following topics:
The Frontier, Frontiersmen and Pioneers
Davy Crockett – Early Life
Davy Crockett: Congressman and Revolutionary
Texas Independence from Mexico
The Alamo
Remember the Alamo!
This product includes the following classroom activities:
Job Application: Frontiersman
Black Bear Safety
Texas Declaration of Independence Group Activity
Review Worksheet
Review Game: Bingo Words and Clues
Sugar Cube Alamo
Frontiersman Coloring Pages
Graphic Organizers
This is one lesson in a series of "Wild, Wild West Careers Lesson Plans." Each of the Wild, Wild West Careers lesson plans covers the career and information about the time period as it relates to the career. The series covers the United States during the 1800s, including events that contributed to Western Expansion. Each lesson can also be used individually.
This lesson appears in my bundled products: WILD, WILD WEST CAREERS: VOLUME I and in BUNDLE – FRONTIERSMEN, DAVY CROCKETT AND THE ALAMO
Wild, Wild West Careers: BUNDLE Volume I
BUNDLE – FRONTIERSMEN, DAVY CROCKETT, AND THE ALAMO
CHECK OUT MY OTHER WILD, WILD WEST CAREER PRODUCTS:
Wild, Wild West Careers: Homesteaders
Wild, Wild West Careers: Pony Express and Showmen
Wild, Wild West Careers: Native American Chiefs, Trail of Tears
Wild, Wild West Careers: California Gold Miners
Wild, Wild West Careers: Explorers – Lewis and Clark
Wild, Wild West Careers: Pioneers
Wild, Wild West Careers: Cavalry, Little Big Horn and Wounded Knee
Wild, Wild West Careers: Cowboys and the Cattle Drive
Wild, Wild West Careers: Transcontinental Railroad Workers
Wild, Wild West Careers: Outlaws and Lawmen
Wild, Wild West Careers: Frontiersman by Sarah Peterson is licensed under a Creative Commons Attribution-NonCommercial 3.0 Unported License.

https://www.teacherspayteachers.com/Product/FRONTIERSMEN-DAVY-CROCKETT-THE-ALAMO-Reading-Passages-Activities-794999
Join The Best of Teacher Entrepreneurs Marketing Cooperative at
https://thebestofteacherentrepreneursmarketingcooperative.net/the-best-of-teacher-entrepreneurs-marketing-cooperative-one-year-membership/
and get THOUSANDS OF PAGE VIEWS for your TpT products!

Victoria Leon's TpT Store
Go to http://www.pinterest.com/TheBestofTPT/ for even more free products!






---