by 4 the Love of Math
7th – 11th Grade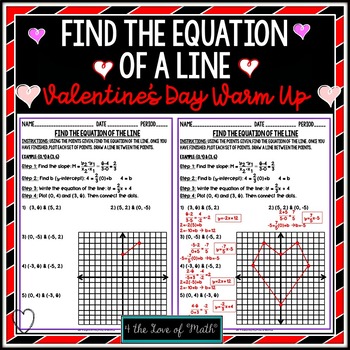 This is a quick 5 problem hand out. Students are given 5 problems that have two points listed. The student will find the equation of the line, then plot the two points listed and draw a line connecting their dots. This will form the shape of a heart. Students who finish this quickly can color in the heart and/or their paper. I like to display them for Valentine's Day.
An answer key with each problem worked out is included!
If you have any questions, comments, suggestions, etc, please email me at: 4theLoveofMath2@gmail.com
Thank you!
*****************************************************************************
Terms of use:
This item is a digital download from 4 the Love of Math. As such, it is for use in one classroom (or by one teacher) only. This item is bound by copyright laws and redistributing, editing, selling, or posting this item (or any part thereof) on the Internet are all strictly prohibited without first gaining permission from the author. Violations are subject to the penalties of the Digital Millennium Copyright Act.
*****************************************************************************

https://www.teacherspayteachers.com/Product/Valentines-Day-Find-the-Equation-of-a-Line-Given-Two-Points-521656
Join The Best of Teacher Entrepreneurs Marketing Cooperative at
https://thebestofteacherentrepreneursmarketingcooperative.net/the-best-of-teacher-entrepreneurs-marketing-cooperative-one-year-membership/
and get THOUSANDS OF PAGE VIEWS for your TpT products!

Victoria Leon's TpT Store
Go to http://www.pinterest.com/TheBestofTPT/ for even more free products!






---