by Victoria Leon
Pre-Kindergarten – 12th Grade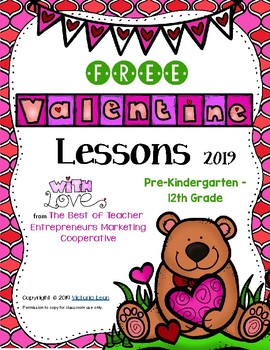 Add some Valentine's Day fun to your regular curriculum with these free lessons by The Best of Teacher Entrepreneurs Marketing Cooperative!
Let's Count for Love! (11-20)
Editable 100 Days Smarter Bracelets FREEBIE
Valentine's Day Cards for Teacher's Activity
Valentine Write the Room Counting Set: 10-20 Sample Set
Valentine's Day Haiku Poem Activity
Llama Love Time Capsule – Valentine FREEBIE
FREE Valentine Addition Task Cards (QR Code, Self Check, NO PREP)
Venn Valentine Greetings
3rd Grade Math for February – FREEBIE
FREE Valentine's Day Color by Parts of Speech Mystery Pictures with Worksheet
Grateful Gnomes FREE Sample
Kindness Cards – An Activity Accentuating Positive Personality Traits
Hearts and Valentines – A FREE Rebus Puzzle Activity for February
History of Valentine's Day: FREE Informational Text Passage
Practice Correcting Run-on Sentences for Valentine's Day
More Free Lessons
IF YOU ARE NOT ABLE TO OPEN THIS FILE or you have any questions, feel free to email me at vleon999@yahoo.com.
Have a Happy Valentine's Day with your students,
Victoria Leon and members of The Best of Teacher Entrepreneurs Marketing Cooperative
https://www.teacherspayteachers.com/Product/Free-Valentines-Day-Lessons-By-The-Best-of-Teacher-Entrepreneurs-MC-2019-4309395
Join The Best of Teacher Entrepreneurs Marketing Cooperative at
https://thebestofteacherentrepreneursmarketingcooperative.net/the-best-of-teacher-entrepreneurs-marketing-cooperative-one-year-membership/
and get THOUSANDS OF PAGE VIEWS for your TpT products!

Go to http://www.pinterest.com/TheBestofTPT/ for even more free products!