by The Education Highway
Kindergarten – 3rd Grade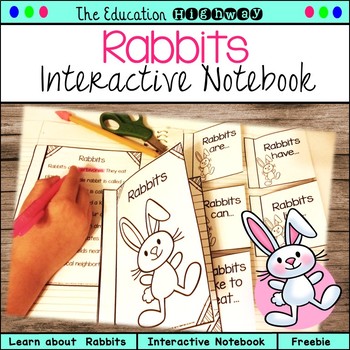 Write facts about rabbits. Quick and easy to put together for students. It includes a rabbit reading passage, booklets, bulletin board activity and more.
Interactive Notebook:
Rabbits real photo with writing flap
Reading passage about rabbits
Quick Facts about rabbits flaps
Tabs for Facts about Rabbits
-Rabbits are, rabbits have, rabbits can, rabbits live,
rabbits live.
Writing booklets flaps:
Facts about Rabbits (primary and standard lines)
Easter bunny Bulletin board writing activity with flaps
Writing Paper:
primary and standard lines
Story Map:
for any story: Characters, Setting, Problem, Solution
Other Product you may be Interested in:
St. Patrick's Day Beginning Sounds
St. Patrick's Day Grade 2 Math Printables
St. Patrick's Day Grade 2 Math and Literacy
I appreciate your feedback!
If you have a comment or questions email theeducationhighway@gmail.com
Hope this product brings a smile to your day!
Celeste Cuevas
Stop by and visit us Instagram or Facebook
Copyright (c) 2017 Celeste Cuevas, The Education Highway. All rights reserved by author.

https://www.teacherspayteachers.com/Product/Facts-About-Rabbits-2439585
Join The Best of Teacher Entrepreneurs Marketing Cooperative at
https://thebestofteacherentrepreneursmarketingcooperative.net/the-best-of-teacher-entrepreneurs-marketing-cooperative-one-year-membership/
and get THOUSANDS OF PAGE VIEWS for your TpT products!

Victoria Leon's TpT Store
Go to http://www.pinterest.com/TheBestofTPT/ for even more free products!






---