by CreativeCOTA LLC
Kindergarten – 2nd Grade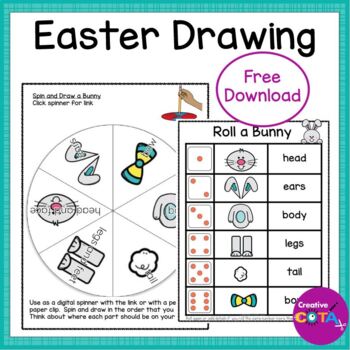 Are your students struggling in the classroom? Are they having difficulty drawing recognizable pictures in their writing journals? Difficulty processing visual information and poor visual-motor coordination skills can lead to problems with reading, spelling, handwriting, drawing, math, and comprehension. Use these fun free, roll and draw a bunny, visual perception activities to help your students improve their drawing and planning skills. Visual perception is the skill needed for a child to make sense of what they see. Help their brains interpret the information they are taking in all day long with these activities.
This is a free Spring Easter Drawing resource. Both a print and digital version are included. Check out more roll and draw or digital drawing spinners in my store.
The print or on-screen Roll and Draw a bunny can be used math center station for work on number identification. Great for classroom activities, virtual lessons, small group special education, teletherapy, and occupational therapy.
Students must draw the parts in the order that they roll. This works on visual perceptual and executive functioning skills, as they must plan out where each part will go. Challenge them to complete the drawing without erasing.
The distance learning resource contains a link to the digital spinning wheel for drawing a bunny. These wheels are great for distance learning and occupational teletherapy sessions, click on the board to use the link to the Wheel of Names website. They can also be used in the classroom on a smartboard or personal device. Must have an internet connection for access to the digital version on the website. Boards can also be printed and used with a pencil and paper clip spinner.
Directions: You or your students spin the wheel. Drawing wheels can be used like my other roll and spin drawing activities. Each spin is the part of the drawing they need to complete. These are a great way to work on visual perception and planning skills. Writing prompt wheels can be spun a few times for each student. They can then write a story that includes the images they spun.
Click HERE to follow my store. You will receive emails about new resources. Purchase new resources within the first 48 hours of upload and receive 50% off! Thank you.
Please consider rating all downloaded resources. Providing a rating for paid resources will earn you TpT credits. Credits can be used toward your future purchases on TpT. Your ratings are helpful when creating new products and I can also update any current product based on your feedback. My hope is that you are extremely satisfied and feel you can give the product a 5-star rating. If not, please send me a question/comment if there is something I can do to improve your downloaded purchase. Click and go to your My Purchases page now to provide a review for resources you have purchased. Sales, ratings and new followers make my day. Thank you in advance for your time.
https://www.teacherspayteachers.com/Product/Spring-Easter-Drawing-Activity-Freebie-6702909
Join The Best of Teacher Entrepreneurs Marketing Cooperative at
https://thebestofteacherentrepreneursmarketingcooperative.net/the-best-of-teacher-entrepreneurs-marketing-cooperative-one-year-membership/
and get THOUSANDS OF PAGE VIEWS for your TpT products!

Go to http://www.pinterest.com/TheBestofTPT/ for even more free products!


---