by Real Cool English
3rd – 6th Grade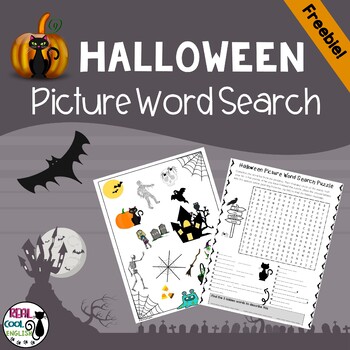 Fun Halloween word search puzzle using pictures of things associated with Halloween to first build the word list, and then find the words in the puzzle. A hidden message is revealed after the puzzle is completed. This is a bit more challenging than the typical word search, and it gives an opportunity to focus on spelling and vocabulary rather than just looking for words in the puzzle from a given list.
This is particularly useful for ESL students as it is a good way to get students working together to build the list, learn vocabulary, and practice spelling.
If you download this freebie, I would be very grateful for your feedback!
★ For all 11 holiday and seasonal picture word search puzzle activities at 50% off, grab the bundle HERE!
★ Want even more picture word search puzzles? Grab the non-seasonal bundle here.
★ Other Halloween activities you might also be interested in:
• Halloween Homophones Boom Cards
• Halloween Homographs Boom Cards
• Halloween Subject-Verb Agreement Boom Cards
• Halloween Sentence Fragments Practice
★ You might also like:
• Word Puzzle Escape Room Activity
• Grammar Review Monsters Boom Cards
• Word Ladder Puzzle for Spelling and Vocabulary
***************************************************************************
★★★ Important note to customers! ★★★
If you enjoyed this product, I would be very grateful for your review.
If you have any questions, concerns, or suggestions, please post in the question to seller section or email me at the address listed on the downloaded product.
?
Please go to your My Purchases page. Next to each purchase you'll see a Leave a Review link. Simply click it and you will be taken to a page where you can give a quick rating and leave a short comment for the product. Each time you give feedback on a paid resource, you collect credits that you use to lower the cost of your future purchases.
I ❤️ followers! click the FOLLOW ME link to get sale alerts, updates and news about future products. You will also be notified when new products are uploaded, most of which are 50% off for the first 48 hours, so it pays to follow me!
For information on newest products, special sales, and promotions, also follow me on:
Thank you!!

https://www.teacherspayteachers.com/Product/Halloween-Puzzle-Picture-Word-Search-Puzzle-FREEBIE-2161407
Join The Best of Teacher Entrepreneurs Marketing Cooperative at
https://thebestofteacherentrepreneursmarketingcooperative.net/the-best-of-teacher-entrepreneurs-marketing-cooperative-one-year-membership/
and get THOUSANDS OF PAGE VIEWS for your TpT products!

Victoria Leon's TpT Store
Go to http://www.pinterest.com/TheBestofTPT/ for even more free products!






---