by Wise Guys
3rd – 6th Grade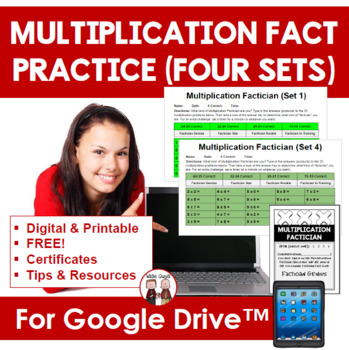 Do your students struggle with their multiplication facts? If your students are like most, some do- and some don't. These four sets will challenge your students in an engaging way with Google. Students will type in the answers to 25 multiplication facts and then refer to the answer key to determine what kind of Multiplication Factician they are.
Included in this Resource:
Resource Link and Tips (2-pages)
Multiplication Factician Sets (1-pages; 4 sets)
Multiplication Factician Sets Answer Keys (1-page; 4 sets)
Award Certificates (1-page; 4 per page)
Why use this digital resource?
This resource is paperless (but it could also be printed).
This resource is easily accessible using Google Drive™.
Your students will work directly on the digital documents.
It's a way to integrate technology into instruction.
Students are highly engaged in their work.
Downloading Resource:
First off, if you haven't created a free Google account, you will need to do that before downloading this digital resource. Each student will also need their own account.
Download the resource and then click on the two links provided to you. When you click on the link, you will come to a screen that says . In order to transfer this file to your own Google Drive™ account, click the blue button that says . Note: If you have several Google Drive accounts with multiple email addresses, make sure you take note which email address is selected in the top right corner of the screen so you can easily find the file in the future.
Disclaimer:
Since this product utilizes free web and app resources, there may be rare times that the technology does not work as planned, which may be out of our control. Please be sure to message us in the Q&A section so we can assist you before leaving feedback.
Check out our other online resources:
Distance Learning Daily Activity Plan
Distance Learning Bored BINGO Board
Check out our Digital Genius Hour!
Distance Learning Daily Reading Journal
Distance Learning Daily Writing Journal
Google and Google Apps are trademarks of Google Inc. © 2015 Google Inc. All rights reserved. Wise Guys are not affiliated with and have not been authorized, sponsored, or otherwise approved by Google Inc.

https://www.teacherspayteachers.com/Product/Digital-Multiplication-Facts-Practice-Using-Google-5352077
Join The Best of Teacher Entrepreneurs Marketing Cooperative at
https://thebestofteacherentrepreneursmarketingcooperative.net/the-best-of-teacher-entrepreneurs-marketing-cooperative-one-year-membership/
and get THOUSANDS OF PAGE VIEWS for your TpT products!

Victoria Leon's TpT Store
Go to http://www.pinterest.com/TheBestofTPT/ for even more free products!






---