by Amanda Butt
1st – 5th Grade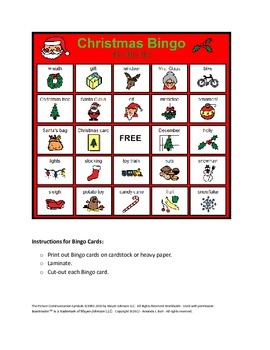 Fun Holiday game for your class! 15 cards, markers and game pieces included. Pair students 2 per card if needed.
★ Once downloaded, print the game pages out, laminate, and cut-out.
★ Play the traditional Bingo method, or play suggested variations listed in the instructions.
If you ♥ like ♥ this product, you maybe interested in my other Christmas holiday products:
♥ Thank you!
The Picture Communication Symbols ©1981–2010 by Mayer-Johnson LLC. All Rights Reserved Worldwide. Used with permission.
Boardmaker™ is a trademark of Mayer-Johnson LLC.
DynaVox Mayer-Johnson
2100 Wharton Street
Suite 400
Pittsburgh, PA 15203
Phone: 1 (800) 588-4548
Fax: 1 (866) 585-6260
Email: mayer-johnson.usa@mayer-johnson.com
Web site: www.mayer-johnson.com
*************************************************************************
keywords for product: Bingo; Christmas; santa, santa claus, reindeer, stocking, holly, presents, gifts, boys, girls, boy, girl, game, bingo game, holiday, holidays, Christmas holidays, first grade, second grade, Amanda Butt, Amanda Butt's store,

https://www.teacherspayteachers.com/Product/Bingo-Play-Christmas-Style-437000
Join The Best of Teacher Entrepreneurs Marketing Cooperative at
https://thebestofteacherentrepreneursmarketingcooperative.net/the-best-of-teacher-entrepreneurs-marketing-cooperative-one-year-membership/
and get THOUSANDS OF PAGE VIEWS for your TpT products!

Victoria Leon's TpT Store
Go to http://www.pinterest.com/TheBestofTPT/ for even more free products!






---