by Linda's Loft for Little Learners
Pre-Kindergarten – Kindergarten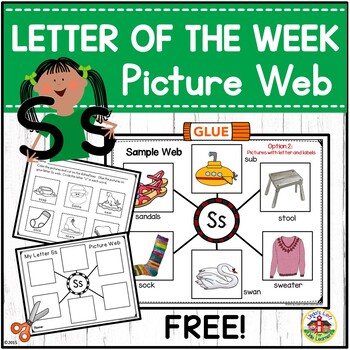 Introduce letter sounds and develop phonemic awareness with this free Letter Ss Letter of the Week Picture Web Activity. Many early childhood teachers design their curriculum around one letter per week. This activity fits that purpose and is ideal for little ones learning sounds for the first time! Students listen for the initial /s/ sound in each word while posting Ss pictures on a beginning sound web. This can be done first as a whole or small group activity, then reinforced with the included printables.
THIS RESOURCE INCLUDES:
→Directions page
→Two sample webs (one with word labels and one without)
→14 color clip art Ss pictures
→Word labels for each picture (optional)
→Four student printables (with and without labels)
→Two 8 1/2 x 11 letter Ss wall posters
→Two clip art pictures that can be used at the center of the web or to introduce the /s/ sound.
Please be aware that FREE PRODUCTS do not have a preview, so do not hesitate to download this product to make sure it will meet your needs.
Skills addressed:
✔Identify letter names.
✔Identify/isolate the first sound in a word.
✔Identify/match words with the same initial sound.
***************************************************************************
PLEASE NOTE:
⭐If you like this free product, all other letters are available individually or in a money saving bundle by clicking HERE.
Other beginning sound products:
⭐Beginning Sounds Apple Theme Matching Activity
⭐Winter Beginning Sound Printables
***************************************************************************
CUSTOMER TIP:
Be the first to know about store sales, free products and product launches by clicking the "Follow Me" star under my store name on this page. Also, by rating this product and leaving feedback you will earn credits toward future TpT purchases.
You can also connect with me on PINTEREST and FACEBOOK.
New followers are always welcome and much appreciated!❤️
Thank you so much for browsing at Linda's Loft for Little Learners.❤️

https://www.teacherspayteachers.com/Product/Letter-Ss-Letter-of-the-Week-Picture-Web-Activity-2245880
Join The Best of Teacher Entrepreneurs Marketing Cooperative at
https://thebestofteacherentrepreneursmarketingcooperative.net/the-best-of-teacher-entrepreneurs-marketing-cooperative-one-year-membership/
and get THOUSANDS OF PAGE VIEWS for your TpT products!

Victoria Leon's TpT Store
Go to http://www.pinterest.com/TheBestofTPT/ for even more free products!






---