by Sheila Melton
Kindergarten – 2nd Grade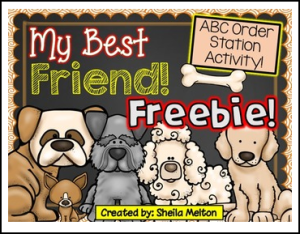 Your students will be YOUR best friend when you introduce this ABC order activity to them all about man's best friend! Students will look at the words on the cards and write them in ABC order using either of the recording sheets. 2 versions are included. Color and black / white copies included.
***Be the first to know about sales, freebies and new product launches:
*Look for the green star next to my store picture and click it to follow my store.You're now my newest follower and will receive updates about this store. 🙂
This literacy activity is perfect for morning work, stations, centers, literacy tubs, small group, individual practice, homework, early finishers, sub plans or 5-minute fillers!
If you like this FREEBIE, you may also be interested in these products:
Back to School Celebration!
My Best Friend! (A Poem About Man's Best Friend, Literacy Activities)
Back to School ABC Order Literacy Station
Task Cards for Stories and Poems
If you like this activity, please consider leaving FEEDBACK for this item and how you used it in your classroom! 🙂
Thanks for looking!
Sheila Melton
https://www.teacherspayteachers.com/Product/ABC-Order-Activity-FREEBIE-My-Best-Friend-Literacy-Station-269265
Go to http://www.pinterest.com/TheBestofTPT/ for even more free products!