by That Fun Reading Teacher
Kindergarten – 2nd Grade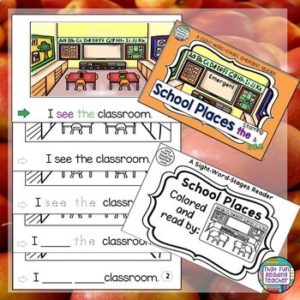 Back to School : ThisBack-to-School freebie includes samples of many fun Kindergarten, First Grade and Second Grade Literacy Products, including:
♦This is Super, Special Me! Fun All About Me no-prep printables for K-2!
♦School Places – A Sight Word Stages RR/DRA Level 1/A Reader Set
♦The Complete Personal Printable Alphabet Book Kit with over 200 Line Art Images!☆Best-seller!☆
Thank you in advance, to those of you who purchase this item and generously take the time to leave feedback.
Back to School:
♦Free Sample: Flexible and Fun Reading Log alternative for K-1 students!
♦K-1 Classroom Literacy Favorites!
♦First Grade Kindergarten Reading Bundle
♦Fun K-3 Literacy Skills Bundle for the whole year! Read and Write and More!
♦Visual Schedule, centers cards and more!
♦Kind Kids 2 pack! (U.S.)
♦Kind Kids 2 pack! (Canada)
♦4 Pack School Themed Sight Word Readers Bundle
♦FREE: How to make familiar reading fun for kids – strategies for parents and volunteers! 
Related:
♦FREE! The Top Three Reading Prompts Bookmarks!
♦ Level aa Special Times of Year – 10 pack: Sight-Word Readers, sentence puzzles and more! 
♦FREE! Community Helpers Sight Word Stages Lv B Reader
♦Multi-Theme Levels A/ B – 10 pack: Sight-Word Readers, sentence puzzles and more! 
♦Free Sight Word Game Sample (Smart phone box) 
♦FREE Elkonin sound boxes and syllable printables like those included in Read and Write and More, sets!
♦Concepts about Print: Letters and Words Storybook Lesson, bulletin board, visuals and sorting activity!
♦Syllable and Season Sort Game Activities
Looking ahead:
♦Level aa/1,5-PackFall, Thanksgiving, Halloween Themed Sight Word Readers
♦Fun Fall, Halloween, Thanksgiving Readers and Early Literacy Activities Bundle for K-2!
☆Best-sellers☆
♦Dealing With Feelings Story Collection included in New, up and coming best seller: The #DWF EVERYTHING Bundle! (Best deal – all future #DWF TpT products will be added here!)
♦Reading Buddy Activities for the whole year! (formerly The Reading Buddy Starter Pack!)
♦The Complete Personal Printable Alphabet Book Kit with over 200 Line Art Images!
♦K-1 Classroom Literacy Favorites!
Let's connect!
Thank you for visiting my store! Please direct any questions you may have on the Q and A page of my store (by clicking my name at the top right), or email me at ThatFunReadingTeacher@gmail.com.
Pop by for a visit on:
my blog – That Fun Reading Teacher.com
Pinterest
Facebook
Twitter and
Instagram!
How to get TPT credit to use on future purchases: 
• Log in and go to your My Purchases page. Click the Provide Feedback button, where you will be linked to the page to leave a rating and short comment for the product.
Be the first to know about my new products, discounts and freebies: 
• Look for the green star near the top of any page within my store and click it to become a follower. You will then receive email updates about ThatFunReadingTeacher on TpT!
Sight Word Readers | Back to School | Alphabet Book | Read and Write and More | Back to School freebie | First Grade Back to School | Fun Activity for Back to School | All About Me | Sight Words Leveled Readers | Second Grade Back to School | Kindergarten Back to School
https://www.teacherspayteachers.com/Product/Back-to-School-free-literacy-sampler-2660458