by A Neighborhood Kindergarten
Pre-Kindergarten – 1st Grade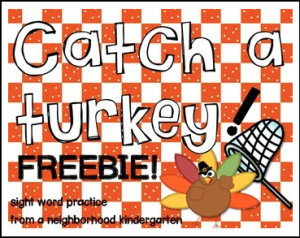 Thanksgiving sight word practice can be fun with this game! I created this freebie to help my K5 students master sight word recognition. Students read the sight words and "catch" a turkey with the matching net! The freebie includes an original chant and suggestions for using the activity with your class! Great for whole group, small group, literacy centers, etc! I hope you enjoy it!
Check out my other catch a turkey resources in my TPT shop and remember that your feedback is appreciated!!!!
Sight words included are:
we, to, see, a, the, I, like, and, come, me, with, my, on, are, is, that
https://www.teacherspayteachers.com/Product/Catch-a-Turkey-Sight-Words-1532612
Go to http://www.pinterest.com/TheBestofTPT/ for even more free products!