by Teaching Autism
Pre-Kindergarten – Kindergarten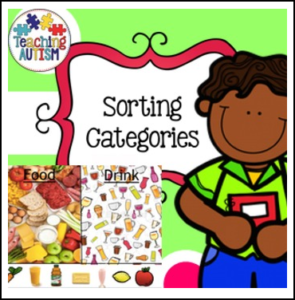 Which Category? Sorting Activity
Sorting activity on powerpoint, do not use as a slideshow but for ICT skills for children.
The items can be dragged from the bottom of the screen into the category they think is correct.
★ Can also be printed and cut out to sort this way. ★
Includes;
♦ food v drink
♦ sea v land
♦ green v blue
♦ sky v sea
♦ jungle v antarctic
♦ bathroom v bedroom
♦ boy v girl
♦ blue eyes v brown eyes
Click below to find:
• $2.99 and under cart fillers.
• Back to School Resources
• Autism Classroom Resources
=========================================================
Once you have purchased this resource don't forget to come back and leave feedback to help you gain some TpT credits! If you want to keep up to date with my sales, new resources, freebies and so much more click the green ★ next to my store name!
I love to see my resources in action in your classrooms, if you use one and would like to send me an image of it you can send to me @teachingautism on Instagram! Follow me here.
What are TpT Credits?
You can gain TpT credits by going back and leaving feedback on any purchases that you have made. The credits build up and then you can use them off future purchases – from any seller on TpT!
=========================================================
https://www.teacherspayteachers.com/Product/Free-Download-Sorting-Categories-1258499
Go to http://www.pinterest.com/TheBestofTPT/ for even more free products!