by Charlotte's Clips
Pre-Kindergarten – 1st Grade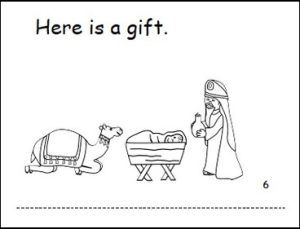 Free Emergent Reader about The Gifts of the Magi. The sight words for this booklet include: here, it, is, a.
The sentences in this little story are based on a pattern with predictable endings. The last word in each sentence changes, but can be determined by focusing on the picture clues.
This book focuses on the gifts of the Three Kings, gold, frankincense, and myrrh. There are transparent pictures for each of the gifts to help explain their deeper meaning.
Permission is granted to make copies for classroom use, Sunday School, and home study. All graphics are from Charlotte's Clips.
If you like this product, you may want to check out this link:Free Christian Printables
For more religious education ideas follow my blog:Faith Filled Freebies
For more ideas follow my religious education board on :Pinterest
Feedback is very much appreciated!!!
https://www.teacherspayteachers.com/Product/Free-Emergent-Reader-Three-Kings-Wise-men-from-Charlottes-Clips-1045827
Go to http://www.pinterest.com/TheBestofTPT/ for even more free products!