by Charity Preston
1st – 4th Grade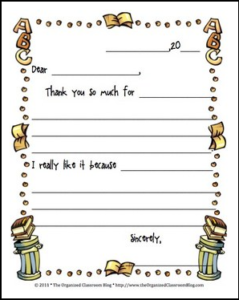 This cute template for a thank you note is perfect for students to say thanks for a guest speaker, a parent volunteer, or for receiving a gift from someone else. It can also be used by the teacher in a pinch if needing a quick thank you for a received gift from a student. Enjoy!
Please be reminded that the files you have are to be used by ONE classroom teacher per copyright law. I really thank you for respecting my time and work.
Want more great teaching tips and classroom organization ideas? Register for one of our FREE Workshops, add our feed to your RSS reader, or visit us on Facebook, Pinterest, my TpT Store, and Instagram!