by Simone Ryals
3rd – 12th Grade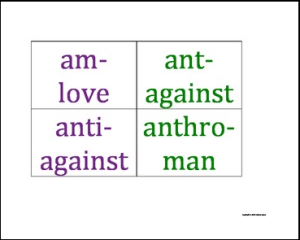 This has helped tremendously in helping my students understand the etymology of words, which is emphasized in the CCSS for ELA.
This is a compilation of over 80 Greek and Latin word parts, complete with definitions, that I use in my classroom. Greek origins are shown in green and Latin in purple in a large and clear font for easy viewing.
To make it interactive, students are presented with the full set of words and word parts, and as they are encountered in reading, math, science, or social studies, the students add them to the wall.
The effects are tremendous. "Iron" being abbreviated as Fe makes sense. If "tele" means far and "phone" means sound, then telephones transmit sounds from far away. Suddenly, they start making connections to television, microphone, microscope… They "get" it!
This can be adapted to most intermediate and higher grade levels; and of course, laminating is optional but will keep them in good condition for years. Another suggestion is to use them in small groups or individually as a game wherein they make lists of words containing these parts, with points awarded to the most unique (not listed by others) words. Fits in perfectly with word study.
Related items:
Weekly Latin Phrases
Free Greek Alphabet
Free Greek Latin Hall Passes
https://www.teacherspayteachers.com/Product/Greek-Latin-Word-Wall-for-Reading-Math-Science-SS-Gifted-CCSS-350479
Go to http://www.pinterest.com/TheBestofTPT/ for even more free products!