by Molly McMahon (Lessons by Molly)
1st – 3rd Grade
Happy New Year!
The Christmas season is filled with all kinds of goodness.  Food, fun, and family are the essential ingredients for making the holiday great.  Teachers get a chance to gain the needed fortitude to prepare for school to begin in January.
I've updated my New Years alpha-numeric codes for the 2016 year.  Once again, I've made this a free resource.  It's suitable for grades first through third.
Here's how it works.  Students use the alpha-numeric codes that are provided to decipher  new years messages.  One of the photos in the slide show is a new years resolution a child might make!
Developing high order thinking skills is essential for the 21st century!   Students need to create their own alpha-numeric codes to achieve this.  Otherwise, they're just filling in letters and reading a phrase.  I've created a sheet that will allow them to program numerals within the code for the phrase, "Happy New Year".  Once they have practiced using the codes with the other printable sheets, they are ready to create their own.
When kids are learning how to fill in the letters for a code and creating their own codes, it helps if they can see an example.  If you have a way to project the images on a whiteboard, it's much easier than writing a model by hand on the board.  I have a SMART Notebook file that can help you to do this.  If you have SMART Notebook software and a SMART board, you can get this file at my Teachers Pay Teachers shop as well.  Both files are freebies!  Click on the images shown below to access the files and my shop.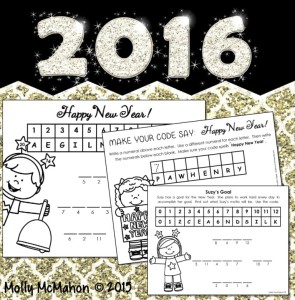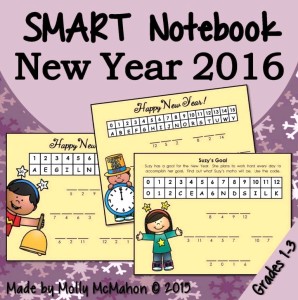 Lessons by Molly's Teachers Pay Teachers Shop
Copyright of Molly McMahon (Lessons by Molly).  All rights are reserved by author. My products are licensed for personal and single classroom use only.  This includes free resources as well as priced items.  File sharing is not permitted.  This item is not for public display on websites or other World Wide Web sources.  The copyright holder and partners are the only entities which are authorized to display this resource.  This resource is protected by the Digital Millennium Copyright Act (DMCA) as well as other applicable copyright laws.