by Abc123is4me
Kindergarten – 4th Grade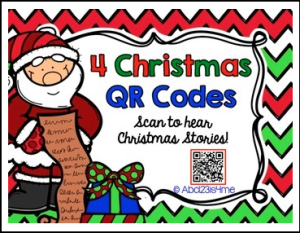 The following download includes four QR codes that students can scan to take them to the following Christmas stories to listen to:
1. The Grinch Who Stole Christmas
2. Twas the Night Before Christmas
3. A Christmas Carol
4. Rudolph the Red-Nosed Reindeer
The links were created in SafeShare so that students can view the stories with none of the YouTube advertisements!
I hope you enjoy this download! If so, please consider rating this product and following my store for future FREEBIES and sales!
Thank you!
Catherine @ Abc123is4me
https://www.teacherspayteachers.com/Product/QR-Codes-4-Christmas-Stories-1559774
Go to http://www.pinterest.com/TheBestofTPT/ for even more free products!