by Ripper Reading Resources
2nd – 7th Grade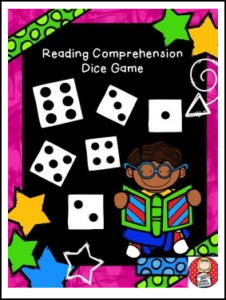 This resource is designed for literacy rotations to reinforce the explicit teaching of the high yield active comprehension strategies. All that is required is to print out the resource and provide a standard die.
The activities include the following options: Predicting, Clarifying, Questioning, Visualizing, Summarizing, Connecting, Questioning and Inferring. (The "Visualizing" and "Summarizing" cards are included with both a "z" and an "s" in the spelling, so teachers can choose the appropriate spelling for their students). This resource therefore includes both U.S. and Australian spelling.
Check out my blog for more information and ideas about embedding higher order thinking and rigour in the teaching of reading: http://ripperresources.blogspot.com.au/
This resource is for personal/classroom use only and is not to be distributed further. Multiple licenses are now available at TpT for half price. No sharing of this product is permitted through internet groups/blogs, offline groups, school district or regional websites/servers,discussion lists, school websites/servers, or personal websites.
If you download this product please take some time to rate it and provide me with some feedback. As well, please consider becoming a follower of my TpT store so that you will receive notification when I release new products.
I appreciate your support very much 🙂
https://www.teacherspayteachers.com/Product/Reading-comprehension-strategies-dice-game-read-and-roll-1603233
Go to http://www.pinterest.com/TheBestofTPT/ for even more free products!