by That Fun Reading Teacher
Kindergarten – 3rd Grade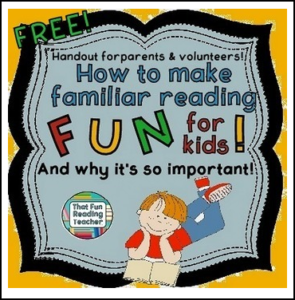 Reading Handout: Free Reading Handout for parents and volunteers!
How to make familiar reading fun for kids – strategies for parents and volunteers! Reading information for parents and reading volunteers. Ideal for Meet the Teacher / Curriculum Night presentations!
This handout contains information for Parents and Volunteers – a tips and tricks reference sheet for Familiar Reading; based on experiences guiding parents and volunteers from the years I taught Reading Recovery.
Color and black and white copies provided. If you double-side copy, you can hand out just one piece of paper per person at Volunteer trainings, Meet the Teacher or Curriculum Night, or place this information in students' reading folders.
I hope you find this as useful and time-saving as I have over the years!
Thank you in advance, to those of you who purchase this item and generously take the time to leave feedback.
Best wishes!
Related:
★Reading Buddies Starter Pack!☆Best-seller!
★Reading Log – Rejigged! Sample FREE!
★FREE Printable Editing Checklist for Primary Writers
★Thank you for being my Reading Buddy Card FREEBIE
★The Complete Personal Printable Alphabet Book Kit with over 200 Line Art Images!
★Write for Real Purposes: Hospital Dramatic Play Center with Printables!
★The Sight-Word-Stages Leveled Readers
✔color version, and duplicated black and white copies for students included in 3 versions: 1) original reader 2) trace the sight word, 3) fill in the sight word
✔visual, color-coded/symbolic directional support
✔meaning supported by engaging pictures
✔repetitive pattern
✔two versions of matching sentence strips are included so students can reassemble the sentences (color and black and white)
✔Self-check checklists included in color and black and white to promote student independence
✔follow-up activity to reinforce the new sight word(s)
Reading information for parents | Reading information for volunteers | Explaining familiar reading to parents | Explaining familiar reading to | Reading volunteer training | guided reading information | how to read with kids | how to make reading fun | Curriculum night handout | meet the teacher night | Kindergarten | First grade | Second grade | Teacher resources | Reading Recovery | early literacy resources | free |
https://www.teacherspayteachers.com/Product/Reading-Handout-free-882181
Go to http://www.pinterest.com/TheBestofTPT/ for even more free products!