by Love Learn Teach
1st – 4th Grade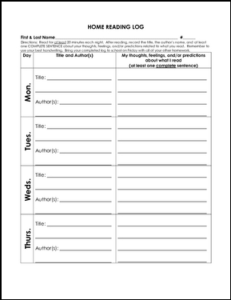 Use this reading log for weekly homework accountability, to track extra reading done by students at home, or even make a booklet for students to use each month or quarter with a reading goal in mind.
Requiring students to write a sentence of reflection after reading helps them to make connections between their reading at home and the lessons learned in class. You may even direct students to write specific types of reflections based on each day's skill or week's focus (theme, cause/effect, main idea, etc.).
When I created this reading log, we were struggling with students' sentence writing skills in our grade level. We used this reflection piece as part of their language arts/writing grade each week to hold students accountable for using proper writing conventions.
See resources aligned to Treasures Reading Series, grade 4.
Check out BACK TO SCHOOL items here!