by Little Learner Toolbox
Kindergarten – 3rd Grade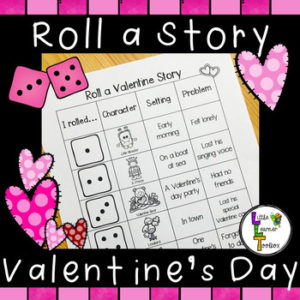 Roll a Story is a great activity for engaging students and inspiring them to write! This a low prep activity will fill your students with creative ideas working individually or as part of a group. There are so many story possibilities decided with the roll of the die!
**Please consider leaving feedback if you like this product.**
Simply photocopy the sheets and provide a die (or several if you have several kids doing the activity) and you're ready to go! It's so easy to set up Roll a Story in your classroom!
This Roll A Story pack included two different options for each sheet, so you can choose what best suits the needs of your students.
This pack includes:
– Choose from A Roll Story Sheet with/without character pictures, or without.
– If your students are eager for an additional challenge there's an 'Extra Story Element' they can roll and add to their story.
– Two different planning sheets are included (with and without the extra story element)
– And a sheet for writing the final story
https://www.teacherspayteachers.com/Product/Roll-a-Story-Valentines-Day-2995778