by Science Etc
5th – 8th Grade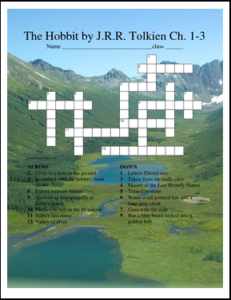 This is a crossword for the book The Hobbit for chapters 1-3. The clues are a review of events and characters from these chapters. Some of the words used are: Baggins, Gandalf, Rivendell, and trolls. This puzzle comes with 3 pages: the first one has a landscape picture as the background, the second page is a plain crossword without a picture, and the third is an answer key. Very professional looking! Crosswords created at www.puzzle-maker.com for use commercially. Thanks!
Science Etc.
This work is licensed under a
Creative Commons Attribution-NonCommercial 3.0 Unported License
.