by Amanda Butt
Pre-Kindergarten – 1st Grade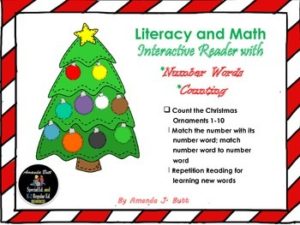 Literacy and Math Christmas Holiday Activities Kindergarten; First Grade; Special Education; Autism; Homeschool
In this packet, you will receive: 
★ An interactive Counting Book – Counting Christmas Tree Ornaments 1-10
★ Matching numbers to number words 1-10
This packet is great for individuals or small groups. It's great for 1:1 work and centers. Velcro is highly recommended!
If you ♥ like ♥ this product, you may be interested in:
Christmas Matching – Shapes – Numbers- Rhyming Pictures
More Christmas and Winter Holiday Products in My Store
♥ Thank you!
Copyright ©2013 – Amanda J. Butt – All rights reserved.
*************************************************************************
keywords for product: Christmas, holiday, holidays, santa, reindeer, stocking, elf, matching, shapes, numbers, autism, autism spectrum, autism classroom, special education, special needs, special ed., kindergarten, first grade, homeschool, centers, Amanda Butt, Amanda Butt's Store, how may, counting, Christmas tree, tree, gifts, presents, Velcro,
https://www.teacherspayteachers.com/Product/FREE-Literacy-Math-Christmas-Activities-Counting-Numbers-Number-Words-KDG-956075