by Fox Creations
2nd – 5th Grade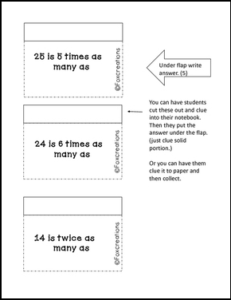 Take advantage of this freebie! Give your students extra practice in interpreting a multiplication equation as a comparison, e.g., interpret 35 = 5 × 7 as a statement that 35 is 5 times as many as 7 and 7 times as many as 5. This freebie comes with 2 printable worksheets and 2 pages of interactive notebook material and/or as an interactive activity. Use this freebie for homework, morning work, quick checkup, center work, partner work, small group, or even during math intervention.
Other important information:
How to get TpT credit to use toward future purchases
1. Go to your My Purchases page.
2. Click on Provide Feedback for the item.
3. Give a rating and a comment—even a short one.Each time you leave feedback, TpT gives you Feedback Credits that you can apply toward future purchases. It takes just a few seconds!
Be the first to learn about my new freebies, discounts, and products! To become a Follower, click on the green star next to my store logo, Fox Creations
https://www.teacherspayteachers.com/Store/Fox-Creations
Happy Teaching!
https://www.teacherspayteachers.com/Product/Freebie-Math-Printables-Multiplicative-Comparison-2294812
Go to http://www.pinterest.com/TheBestofTPT/ for even more free products!