by Third Grade Triumph
4th Grade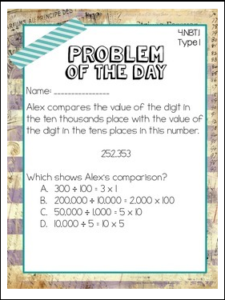 Try this freebie! This pack includes some of the PARCC problem types for ALL fourth grade standards! Since most states are reforming their state testing to the PARCC test, we need our students to practice and become familiar with the language and types of questions used on the PARCC. This pack was designed to meet that purpose and expose third grade students to the rigor and complexity of the assessment. This pack will give a quick analysis of the types of questions found on the math assessment and gives ample practice problems for students to get used to the question format. I hope you find this product useful and informative!
https://www.teacherspayteachers.com/Product/FREEBIE-PARCC-Math-4th-grade-1656362
Go to http://www.pinterest.com/TheBestofTPT/ for even more free products!