by 180 Days and Counting
1st – 3rd Grade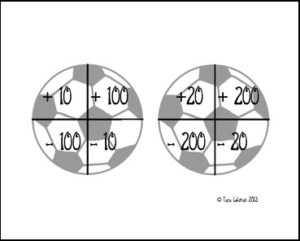 Mental Math Practice is aligned with the Common Core Standard 2.NBT.8
Students have to use mental math in-order to add or subtract 10 and 100. There is an additional spinner and recording sheet for adding or subtracting 20 and 200.
Students can either pull a card, spin a spinner, and verbally tell the answer. Or, they can pull a card and complete the recording sheet provided.
Included:
*1 spinner (+/- 10 & 100)
*1 spinner (+/- 20 & 200)
*16 number cards
*2 recording sheets
https://www.teacherspayteachers.com/Product/Mental-Math-Practice-Common-Core-aligned-672800
Go to http://www.pinterest.com/TheBestofTPT/ for even more free products!