by Robin Wilson 1st Grade Love
Kindergarten – 2nd Grade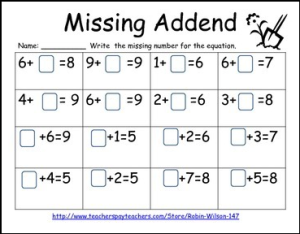 This is a freebie that is a part of my packet, Beginning First Grade!
First grade starts with number sense! Recognizing, counting, adding, subtracting and missing addends! This freebie is missing addend practice.
If you are a K-2 teacher, homeschool parent, the packet will help you get the year started! It is a packet that helps you review or differentiate number sense. It is located at http://www.teacherspayteachers.com/Product/Ready-for-First-Grade-Preparation-or-Review-1277400
Please let me know if you have questions.
https://www.teacherspayteachers.com/Product/Missing-Addend-1278396
Go to http://www.pinterest.com/TheBestofTPT/ for even more free products!