by Learning Harbor Resources for Teachers
1st Grade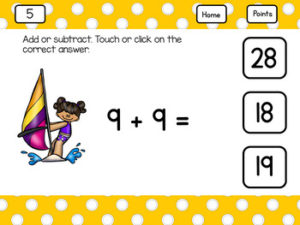 This is a mixed addition and subtraction math activity to use with Google Classroom™ or Google Drive™! Students will enjoy the summer fun kids at the beach theme as they practice with this self correcting, interactive Google Classroom™ activity. Adding or subtracting multiples of ten, single digit numbers to or from two-digit numbers, and single digit numbers to or from single digit numbers are included.
Students will click on a symbol on the home page and be taken to a random slide with an addition or subtraction problem. Students will find the answer to the problem, record their answer, and check their work by touching or clicking their answer. If the student clicks on a correct answer, a slide with "Way to Go!" will pop up. If the student clicks on an incorrect answer a slide with "Try Again, You'll Get It Next Time" will pop up.
Students can tally correct answers on the tally slide projected on an interactive white board, if you wish or you can copy the black and white points slide for students to use.This is great for end of the year review in first grade or beginning of the year review in second grade.
This resource can be used for:
Spiral review
Math stations/centers/rotations
Individual students using computers or tablets
Small groups
Tutoring
Parent volunteers
Interns/student teachers
RTI (response to intervention)
Early finishers
Older class buddies
Projecting onto a whiteboard
Enrichment
Reinforcement
Computer Lab and 1:1 computer time
How will using Interactive Self-Correcting Google Slides™ activities benefit you and your students? They are paperless and no prep! Just download and teach. They work on any computer or device that operates Google Slides™. They are engaging so students spend more time on task. They improve students' dexterity and computer skills.
https://www.teacherspayteachers.com/Product/Mixed-Addition-and-Subtraction-Summer-Fun-Kids-FREE-Resource-for-Google-Drive-3758302