by Spot On Teaching
3rd – 5th Grade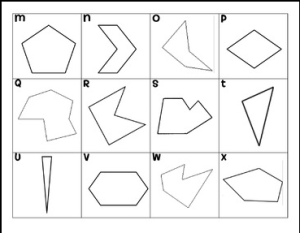 Three great activities to be used with a small group of students are included.
Students may:
-classify by types of shapes
-classify by properties of shapes
-find relationships between properties
Feel free to share this Freebie with your friends and colleagues!
❤ ❤ ❤ Customer Tips ❤ ❤ ❤
Earn TpT Credits for future purchases
★ Please go to your My Purchases page. Beside each purchase, you'll see a provide feedback button. Simply click it to provide a rating and leave a short comment for the product. Each time you leave feedback, TPT gives you credits you can use to lower the cost of future purchases. Thank you!! I value your feedback greatly! ☺
Follow Me
★ Click on the GREEN STAR to be the first to know about my newest FREEBIES, sales and products.
Find Me On
★ Pinterest ★ Instagram ★ Twitter
https://www.teacherspayteachers.com/Product/Polygon-Sort-MiniLesson-1091988
Go to http://www.pinterest.com/TheBestofTPT/ for even more free products!