by In the Math Lab
Pre-Kindergarten – 1st Grade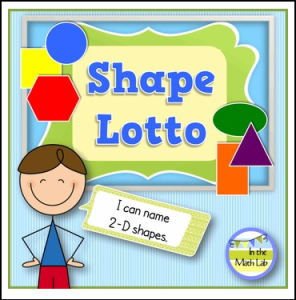 Here is a fun and colorful 2-D shape matching game for young students. Players choose a shape card, say the shape name, and try to make a match on their game boards. But watch out – choose a SORRY card and a player loses a turn.
2 levels:
• Set A cards use shapes with the SAME color as the shapes on the game boards. Students can match by shape and/or color.
• Set B cards use shapes with DIFFERENT colors. Students have to find matching shape.
Good practice – good fun!
In exchange for this freebie, please leave feedback.
Thanks!
***Are you using my popular DAILY MATH series?***
Daily Math for Kindergarten
Daily Math for 1st Grade
FOLLOW ME to get new product notifications, SALE notices, and freebies!
© In the Math Lab. Permission is granted to buyer for single classroom use. No part of this work may be copied or redistributed in any way.
https://www.teacherspayteachers.com/Product/Shape-Lotto-2-D-Shapes-1699626
Go to http://www.pinterest.com/TheBestofTPT/ for even more free products!