by Mark Aaron
5th – 12th Grade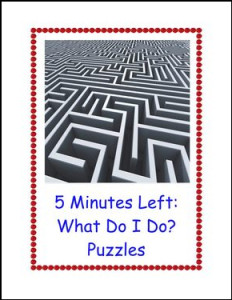 These are all my absolute best classroom-tested puzzle time fillers that every teacher needs to have when a planned lesson ends earlier than anticipated or the kids just need a break at the end of the period.
Some puzzles I have used over the years just do not work well; these all do. What they have in common is that they are challenging, engaging to all students, and effective problem-solving/critical thinking activities.
Some involve language skills, some involve math, and some both. All you need is your marker, a whiteboard, and a few minutes of extra time. Answers provided (of course). PLEASE RATE THIS FREE PRODUCT IF YOU FIND IT WORTHY.
Want more puzzle fun for your students? Click below:
https://www.teacherspayteachers.com/Product/5-Minutes-Left-and-What-Can-I-Do-100-Fun-and-Challenging-Puzzles-53844
Go to http://www.pinterest.com/TheBestofTPT/ for even more free products!