by I am Bullyproof Music
3rd – 6th Grade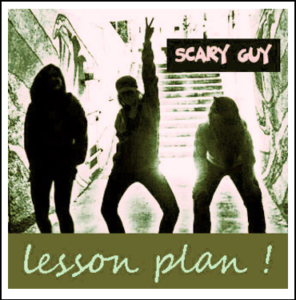 This bullying prevention classroom lesson helps students realize that choosing dark company is a snore. Why hang out with dreary people? Positivity is so much more fun! This lesson plan was created to wrap around our Scary Guy anti bully song which is available as a freebie in our store. Although our song "Scary Guy" has a proven record of appealing to all ages, our lesson plan is geared for classrooms grades 4-6.
Lesson plan by Dru Frick
(c) 2012 words and music to "Scary Guy" by Lessia Bonn
for I am Bullyproof Music
photo and cover art by Lessia from our "Scary Guy"
bullying prevention music video (Youtube)
BE THE FIRST to know about my new discounts, freebies and product launches: Look for the GREEN STAR near the top of any page within my store and click it to become a follower! You will then receive customized email updates about this store.
bullying prevention anti bullying anti-bully lesson plan positivity empowerment life skills SEL funny tune song about bullies character education
https://www.teacherspayteachers.com/Product/Bullying-prevention-LESSON-PLAN-to-our-Scary-Guy-song-Encourages-positivity-410678
Go to http://www.pinterest.com/TheBestofTPT/ for even more free products!