by Beth Hammett the Educator Helper
6th – 12th Grade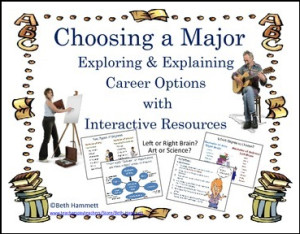 A seven-slide, interactive PowerPoint to assist students through the process of choosing college majors. Includes individual/small/whole group critical thinking skills activities:
Definitions of Bachelor of Arts/Science
Differences between Bachelor of Arts/Sciences
Left Brain/Right Brain examples/quizzes
Career Assessment Quiz links
Activities for assessing left/right brain
How to choose skill-based majors
Optional research activities
Can be used for fact based research writing, college prep courses, and college career days.
https://www.teacherspayteachers.com/Product/Choosing-a-Major-First-Year-College-Skills-122877
Go to http://www.pinterest.com/TheBestofTPT/ for even more free products!