by Charity Preston
Pre-Kindergarten – 5th Grade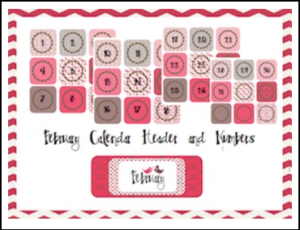 Here is a February calendar header and number cards for your classroom calendar, to be used as number cards for students, or used to number centers in your room with a dash of Valentine's Day splashed in! Just print, cut out, and laminate. Includes the header, numbers 1-31, and several blank templates that you can write holidays, birthdays, or special events on. (Tip: If you use sharpie on top of lamination, just use nail polish remover at the end of the month to take off for the next year!) Enjoy!
Please be reminded that the files you have are to be used by ONE classroom teacher per copyright law. I really thank you for respecting my time and work.
Want more great teaching tips and classroom organization ideas? Register for one of our FREE Workshops, add our feed to your RSS reader, or visit us on Facebook, Pinterest, my TpT Store, and Instagram!